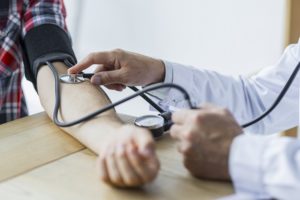 When Benjamin Franklin uttered the words "An ounce of prevention is worth a pound of cure" some 250 years ago, he was actually referring to fire safely. Those famous words that live on today have more commonly been associated with preventative health care. Dr. Ryan Christensen and the Doctors at Osteopathic Healthcare Associates couldn't agree more and incorporate preventative health care as a vital part of their medical practice.
Many injuries, diseases and chronic health conditions are preventable when people eat right, live a healthy life style, and keep up with their annual health care screenings and immunizations. Therefore, preventative health care is much better and more preferable to a cure when it comes to keeping you and your family healthy.
A visit with your family physician can help asses your general health and detect the onset of chronic conditions early on so that they are more manageable and easily treated.  For those who have risk factors or a family history of certain conditions, an annual checkup can help you and your doctor identify health issues before they become a serious problem. Depending on your age and other factors, your doctor may screen for diabetes, high blood pressure, cholesterol and cancer screenings. Maintaining and improving your health is important to Dr. Christensen and with a focus on preventive health care, along with a leading a healthy lifestyle and following the doctor's advice, he can help you avoid illness and stay healthier.
A big part of preventative health also includes diet and exercise. According The Heart Foundation a diet high in saturated fat can lead to high cholesterol, high blood pressure and heart disease. A healthy diet is essential to well-being and can help prevent cardiovascular disease, certain forms of cancer, osteoporosis and obesity. Eating healthy foods can also boost your energy and make you feel better which can help you become more physically active.
In addition to seeing your doctor for preventative health screenings, immunizations and eating a healthy diet, Dr, Christensen councils his patients to exercise regularly, not smoke, maintain a healthy weight, protect yourself from the sun,
protect yourself from sexually transmitted diseases and if you drink alcohol, do so in moderation.
Dr. Christensen is now accepting new patients!
Please call (586) 221-2791 to reach us for an appointment!